Powerful people do not want you to see these videos about alien disclosure. Youtube would not post either video. Daily Motion removed the 30 min vid after a day, and the short one soon after.
This is really peculiar because the long video is just 3 minutes from "Jupiter Ascending" (3%) and 20 minutes from 27 hours of the second and third runnings of "V" (only 1.2%). Therefore we don't see how this is a copyright issue, as you are meant to be able to use up to 10%, and people copy all kinds of videos these days with no interference.
We have finally managed to post the longer video (see  below). However, make sure you download these videos (links follow). They tell a powerful message! If you have problems downloading them, contact us and we will guide you through the process. Watch this while you can.
Update 1/27/17: We have had the server crash 4 times, for 5 days total. Download this article as well.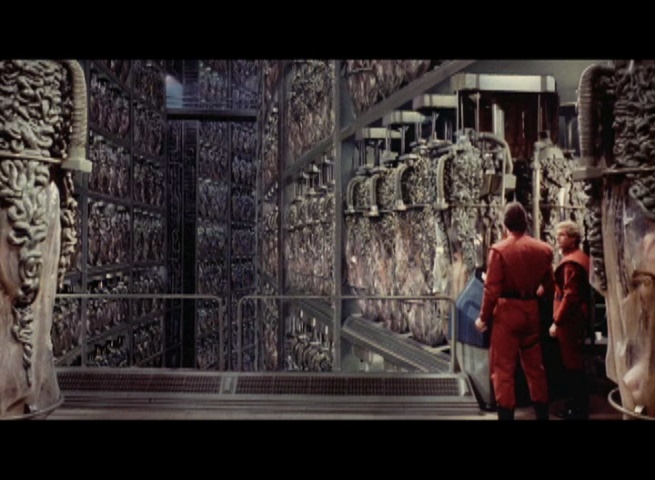 Use these download links if the video player (above) does not function:
30 MINUTE VIDEO – DOWNLOAD NOW
4 MINUTE VIDEO
The first part of the above video is not from just any movie. It is from the movie Jupiter Ascending, (released Feb 6, 2015), written, produced and directed by the Wachowskis, who also directed and produced The Matrix.
Most interestingly, Neo, the star character in The Matrix (released March 31, 1999) had the very date of the 911 Twin Towers disaster on his passport (9/11/2001)!
911 happened 895 days after The Matrix was released.
Are the Wachowskis telling us something again?
We believe they are. Quotes from the clips above, from Jupiter Ascending:
Titus: "Have you ever seen a harvest?"
Kalique: "Oh no, never. But I've heard they feel no pain. It's all quite humane, from what I've been told".
Titus: "There are marshals and administrators to make sure everything is done according to code, but still, it could be rather affecting…"…
Balem: "Most of them are miserable in their lives, and what we do for them is a mercy."…
—-
Stinger: "That's where the "why?" gets ugly. Basically, the goal is to grow a population as large as possible.
Once the population exceeds the planet's ability to sustain it, it's considered ripe for harvest."
Jupiter: "Harvest?"
—–
Balem: "Mr Night, I want this facility running at capacity. I want full diagnostics and cost projections for an early harvest…."
Mr Night: "Of course, my Lord."
Balem: "What kind of grade are we getting from the skim?"
Mr Night: "Excellent product, sire. Premium grade. It's a particularly robust stock. … Assuming market stability, if we harvest later this century, profit margins should eclipse your nearest competitor."…
Balem: "Understand this, Mr. Night, I will harvest that planet tomorrow…"
—-
(Kalique, the old woman at the start of the movie, went into a bath, and came out looking very young).
Kalique to Jupiter: "Your earth is a very small part of a very large industry…feel my skin…"
Jupiter: "Wow!"
Kalique: "In your world, people are used to fighting for resources, like oil, or minerals, or land.
When you have access to the vastness of space, your realize there's only one resource worth fighting over, even killing for – more time.
Time is the single most precious commodity in the universe."
—-
Jupiter: "What is that?" (She holds a container of about 1 liter of liquid).
Titus: "It has many names, Regenix, Recell, Nectar, there are various levels of usefulness and quality, but this is the most pure and most valuable solution made by the House of Abrasax."
Jupiter: "Kalique came out of a bath…?"
Titus: "Naturally my sister didn't explain what it is, or where it comes from. It comes from people.
Each unit is refined from approximately 100 human beings."
Jupiter: "What?!"
Titus: "Your planet is a farm, Jupiter. There are thousands of planets like yours, set up for families like mine, to supply an ever increasing demand for more time."
Jupiter: "Are you saying you killed 100 people to make this?"
Titus: "Not me, but, yes, someone did.
Not unlike butchering a herd of cattle."
—-
Balem: "Now the human beings on your planet, are merely a resource, waiting to be converted into capital.
And this entire enterprise is just a small part of a vast and beautiful machine, defined by evolution designed for a single purpose, to create profit."
——–
This is the most important article you will ever read. The alien ships are coming and when they do, you must not get on, no matter what, no matter how great their technology is, no matter how beautiful they are, no matter what they say or what they offer you, because if you do they will eat you and harvest you for raw materials that help them to live hundreds more years.
That will be after they have tortured you. They are coming to harvest humans, for profit.
They especially want children; as of 2016 they have actually admitted that serum from young people reverses the aging process.
To make sure you don't go on the ship, it is vital that you get rid of all wireless and your cell phone (here's how and why). If you won't do that, at least wrap your cell phones in metal and store them away, immediately you hear that the ships have come out in the open. Technology has been put in the phones to transmit frequencies which interact with the brain to give it orders.
We are deadly serious about this. Many people will laugh at this – until it happens. We have decided to face public ridicule because the importance of warning people of the plan to trap them is so great.
The above video tells you what is coming. They did that because there is a legal spiritual law that the evil ones keep to – They have to tell us what they intend, before they do it. Evidence that this is true is the many, many instances of the public being shown what was intended for 911 before it happened. See pictures here.
Many celebrities and important people will help the aliens to herd millions of people onto the ships. Don't fall for the scam.
While most people still struggle with wondering if aliens are real, Michael and I have known from our own experience for years that they absolutely are real, and much more varied and evil than is generally thought. Our research is unique because we have used the biofeedback meter in addition to muscle testing. This cuts through the mind control of the aliens.
Because of our research, we moved on from wondering if aliens are real or not, to studying them. One should only take advice from someone who has direct experience with something, and we believe we have earned that right, by studying aliens since at least 2000, through our association with a wide range of people who contacted us via our website. Most of these people were intelligent, professional and did not take alcohol or drugs.
We have gained unique knowledge about aliens from our own experiences, doing clearing sessions on numerous other people, and by conversations with these many very interesting and highly intelligent people all over the world.
We are not saying that all aliens are bad. Good ones do exist, but the ones that come in the ships to 'save' you and who get the approval of the government and celebrities will be lying and evil beyond imagination.
Yes, there are good extraterrestrials out there, but if they decide to rescue you, they do not need your permission to do so. Good extraterrestrials will transport you aboard as quickly as a ship's crew would rescue a drowning man. Their technology is much better than that of the evil ones. Only the evil ones will want you to agree to come aboard.
If good extraterrestrials had wanted to save you, they would have given you years to learn about them so you can decide if you trust them or not. For a long time there have been millions of humans on earth who have been in all kinds of dire need of food, housing and safety, that no one has helped; no humans and no aliens came to their aid. This event is no different – it's just bigger.
The aliens that are coming to pretend to save you as trustworthy as a used car salesman with a "Hurry – last one in stock!" sale. They will give people almost no time to think, let alone find out if they can trust them or not.
Trust only those who have kept all their agreements with you, and with whom you have had many agreements in the past, as a test.
Do not visit the ships. Do not go for a tour. Do not go on board for any reason. Stay totally in your home ("A man's home is his castle").
When the ships come out in the open, do not go aboard. Do not get harvested. Do not get tortured. Do not get eaten. Don't give them your DNA, hormones and children.
It is possible that they won't turn up until catastrophic events happen on earth, either natural events or engineered ones.
No matter how bad things get here on earth, there are worse things than death. Everyone dies, everyone leaves their body, but you don't want to die in excruciating pain and while suffering the emotional turmoil of knowing you will be eaten and cut up for your meat, hormones, DNA and raw materials for life extension. For example, there are at least 70 hormones in the body, and science does not fully understand what they are capable of. (eg They only recently discovered leptin, the most important one of all!)
Learn how you don't 'die' when you leave your body, because you are an immortal spirit, by reading stories of Near Death Experiences.
People who have officially died said when they left their body and became a spirit only, they looked the same, only they were able to pass through objects, and they felt absolutely wonderful! (Except when they committed suicide, when they felt even worse than when they were alive). Most near death experiencers did not want to come back to their body.
AFTER THEY ARE GONE, EARTH WILL BE A PARADISE
Besides, we are coming to believe that the apparent earth changes have been engineered by advanced technology, and would not normally happen at this time. Once all the evil people, perverts and morons leave earth, this place will be extremely wonderful (See Dream #3 below).
Start thinking about how and where you would like to live if earth were perfect, and no one had to do meaningless work for a living, but instead worked to serve the people of earth and to give meaning and purpose to life.
We believe that when the alien ships come to pretend to save people, no one will be forced aboard, with one proviso: It's possible that having an EBT (food stamps) card, and taking free food and water from Walmart etc., will count as legal permission to take you. That is why it is so important to have food and water stored so you absolutely can stay away from large buildings after the aliens show themselves.
It's very possible that this event will happen directly after something stops supplies of food and water.
We believe, and hope we are right, that the evil aliens who will come out in the open with the blessing of the government, military and celebrities will want you to come aboard willingly. We do not know the reasons for this, but one reason is that there is some kind of legal rule they have to follow. We are in a spiritual battle, and there are rules like a chess game. Sometimes even when the heavenly side wants to help people they can't.
It's quite possible that when you are passive, they consider that as permission. Them taking you to "save" you is just an excuse. To save you they're not bound by a law to ask. If their intentions were good, they'd take you to safety just as a rescuer saves a drowning victim. They wouldn't ask. The fact is, if the aliens wanted to take you to save you, they could. But that's not what they want, so they need to coax you to go with them.
They can lie to you all they want. All it takes is for you to agree to go. Or rather, to not object. That's more accurate. So, object to going.
The correct way to phrase it is "I decline your offer to contract." This is because all governments and organizations are corporations, and everything is done by contract, just like in Jupiter Ascending where it was all about law and profit.
This is a huge subject. Unknown to most people, we are currently under Admiralty Law in a Military Dictatorship, under National Emergency. If you wish to look into this further, please read all 100 articles on this website at annavonreitz.com, (by a former judge) and then you will know more about this than 98% of the so-called Patriot movement. Most of the information out there on this subject is either incomplete, lightweight or wrong, and can get you killed in the wrong situation.
If you fail to say, "I decline your offer to contract" your silence may be considered as permission.
Another reason for tricking people to come onto the ships will be that when a human realizes they have been tricked aboard and will be eaten, they get overwhelmed and release extra hormones which makes them even more delicious to the aliens.
Yet another reason will be that they will be more successful in herding hundreds of millions of people onto the ships, if they entice them in with bait, rather than herd them in by force.
I hope that we are right when we say 'no one will be forced aboard'. However, we believe that the temptation for most people on earth, especially young people, will be great. Free food and water and wonderful opportunities will likely be offered as bait. It is possible that catastrophic earth changes may hasten the desire of people to go aboard. This is why it is crucial that you store at least four weeks' food, water, cash and supplies right now, and assume that electricity will not be working.
CELL PHONES WILL ZOMBIFY PEOPLE TO GO ON THE SHIPS
We believe that the main way that the aliens will coerce people to go aboard the ships will be through cell phones, especially smart phones and also smart TVs. They will put out frequencies which affect the brain.
It is almost guaranteed that instructions of where to go 'in the case of an emergency' will be given through cell phones. This is why the government has been so eager to give cell phones to starving people in Africa, and homeless people in America. Please get rid of all smart phones and smart TVs now.
We got this realization from various sources including reports that chemtrails have been used to infect people with certain metals and nanotechnology, with the goal that at some time in the future, a signal will go out from the cell towers, to make the nanotechnology take over people's brains.
Please read: Chemtrails, Wireless and You
Pictures top right is Maria Orsic of the Vril Society. She was supposedly a medium but was more likely a  Nordic Alien. She helped the Nazis build their anti-gravity craft prototypes.
Please viralize this image (anonymously)
——-
This article talks about how ears are "forbidden gates" that allow access to control the brain.
From the above link:
"With the acknowledged identification, documentation and cataloging of "brain-printing" via wireless devices… the premise of Stephen King's 2006 novel, Cell, evokes a frighteningly possible scenario:
"Mobile phones deliver the apocalypse to millions of unsuspecting humans by wiping their brains of any humanity, leaving only aggressive and destructive impulses behind.…
What if cell phones did something much worse (than cancer)? What if they turned the user into a zombie…?"
OUR BACKGROUND
We believe that we have earned the right to have an informed opinion on this matter. We were the first to tell you, in 2000, that the U.S. Navy has a Military base on Mars, that there is breathable air there, and that at that time, two million people lived there. If this is new to you, please read the free books at The Mars Records and The Mars Force- Pat's Story. Each book is 300+ pages giving details and evidence of the truth of this, backed up by recordings of a biofeedback meter.
Several years after the publishing of that first book, others have come forward backing up the veracity of this story, including these eight people:
Lawyer Andrew Basiago, member of the Washington State Bar Association, member of Mensa and holder of 5 degrees.

Presidential Adviser Bernard Mendez.

Lawrence Livermore Physicist Arthur Neumann.
If you don't believe us yet that there is a military base on Mars, then you may believe us when the aliens come, and open people's minds up to whole new realm of possibilities. When that happens, please remember this message – do not get on the ships, no matter what.
This article will explore the history of this plan to harvest humans, how you have been coerced into thinking that the aliens are good, so that you will go willingly on the ships, and the evidence that what we say is true. I will also describe brand new and shocking evidence that the aliens who abduct humans are extremely evil.
QUESTION: WHY AREN'T THE ALIENS HERE ALREADY?
ANSWER: THEY ARE.
People have asked this often. The answer is – they are here, lots of them, and dozens of different species as well. They just hide very well, and have been aided by the government in doing this. I will be giving evidence to support this.
One reason why you don't hear more about this is that hundreds of people who have researched this and come forth with evidence have been murdered. See "Who is killing our UFO Researchers"?
Aliens have been with us for centuries. Evidence of this is in many places, but the truth has been hidden from you. Some evidence is shown in ancient paintings:
(Above) The two objects at the top are part of a painting called "The Crucifixion," which was created in 1350. They are located above the altar at the Visoki Decani Monestary in Kosovo, Yugoslavia.
(Above) At the end of the 1960s, biologist Uvan Ivan Sanderson, reported that some gold pre-Columbian artifacts, centuries old, were reproductions of jet aircrafts, a conclusion supported by doctor Arthur Poyslee, of the New York Aeronautic Institute.
(Above) The Madonna with Saint Giovannino. Above Mary's left shoulder is a shining, or glowing, disk shaped object. A man and his dog is seen looking up at the disk.
Painted in the 15th century, Palazzo Vecchio lists the artist as unknown.
(Above) "The Baptism of Christ", by Flemish artist Aert De Gelder, painted in 1710.
Since the artist was not present at this event, and is painting this from imagination, we assume that he got abducted and was told to paint this, as aliens hate the name of Jesus Christ as many people have been able to stop abductions by commanding the aliens to stop in the name of Jesus Christ.
(Above) This carving was found in Kiev, Ukraine. It is approx 6,000 years old (4,000 BC). Given the context of where and when it came from, it is very difficult to explain this carving as not being of something "other worldly".
(Above) This is a French jeton minted in 1680, a coin-like educational tool that was commonly used to help people count money, or sometimes used as a money substitute for playing games. It is about the size of a U.S. quarter-dollar. It appears to commemorate a UFO sighting of a saucer like object.
(Above) This illustration shows the sighting of two UFOs over Hamburg, Germany, November 4, 1697. The objects were described as being "two glowing wheels". (Note: if the round object on the far right is the moon, the UFOs were either very low or very large. Notice also the many people pointing.)
(Above) These images were found on the ceiling beams of the 3000 year old New Kingdom Temple, dedicated to Osiris. Located several hundred miles south of Giza, at Abydos.
Images of a helicopter, submarine, plane and hovercraft are depicted.
(3 images above) Taken inside the Tomb of Ptah-Hotep, at Saqqara, Egypt. The picture shows servants offering food to the Egyptian sage Ptah-Hotep, who served during the reign of Izezi. Izezi ruled Egypt 2388 – 2356 BC. You can see an alien gray in the picture.
PHIL SCHNEIDER
The best introduction to the truth of alien presence on earth is to listen to one of Phil Schneider's speeches, of which he gave around 30. He was murdered a few months after the last one,  in 1996.
He was found dead in his apartment with piano wire still wrapped around his neck. According to some sources, he had been brutally tortured repeatedly before being killed.
Phil Schneider background was as a Structural Engineer. He was involved in building underground bases for the government. He was an expert on explosives. He was one of three people to survive a battle between the large Grays and U.S. military forces at Dulce underground base, in 1979. In some of his videos, he shows the scar on his chest from the lazer burn he received then.
Here are a few quotes from Phil Schneider:
"I was employed by the U.S. government with a Ryolite-38 clearance factor – one of the highest in the world.
I know about the 90 some- odd varieties of chemical explosives.
I was involved in 1979 in a firefight with alien humanoids, and I was one of the survivors. I'm probably the only talking survivor you will ever hear.
The Black Budget is a secretive budget that garners 25% of the gross national product of the United States…. At least this amount is used in black programs, like those concerned with deep underground military bases…. They have been building these 129 bases day and night, unceasingly, since the early 1940's.
These bases are basically large cities underground connected by high-speed magneto-leviton trains that have speeds up to Mach 2…. They have laser drilling machines that can drill a tunnel seven miles long in one day.
(Above) Images of tunnel boring machines
(Continuing quotes by Phil Schneider)
"The black budget programs have subverted science as we know it.
Basically, as far as technology is concerned, for every calendar year that transpires, military technology increases about 44.5 years.
PRESIDENT EISENHOWER SIGNED THE GREADA TREATY WITH GRAY ALIENS IN 1954
Back in 1954, under the Eisenhower administration, the federal government decided to circumvent the Constitution of the United States and form a treaty with alien entities.
It was called the 1954 Greada Treaty, which basically made the agreement that the aliens involved could take a few cows and test their implanting techniques on a few human beings, but that they had to give details about the people involved. In return, the grays gave us technology such as computers, the stealth bomber and antigravity (Note by webmaster: Some UFOs are owned by the military). Slowly, the aliens altered the bargain until they decided they wouldn't abide by it at all.
I am very worried about the activity of the federal government. They have lied to the public, stonewalled senators, and have refused to tell the truth in regard to alien matters." (End quotes by Schneider)—
There is a story that is harder to verify, that just before the signing of the Greada Treaty, some other extraterrestrials met with the government. The government eagerly asked questions to find out what 'toys' they would get from the aliens…But the aliens, instead of offering technology, said they would teach us about spirituality instead.
Naturally, the government was not interested in that, so the extraterrestrials left, never to be heard from again.
WHY PHIL SCHNEIDER WENT PUBLIC
My husband Michael and I were told personally by someone who knew Phil well, what it was that finally drove him to go public. This person was very aware, very intelligent and of integrity.
We were told that  one day Schneider was asked to be present at a meeting of the New World Order in an underground base. He saw roughly 160 world leaders seated in an auditorium.
Down the front of the auditorium there were 12 empty reserved seats. Schneider was wondering who they were reserved for. What he saw next made his blood run cold…
Twelve tall gray aliens entered and sat in the empty seats. After that, Phil knew that he could no longer stay silent.
So whenever you have wondered why the world and people are in the mess they are in, you know who is responsible.
See videos of Phil Schneider here.
SWISS 100 FRANC NOTE
Does the above explain why the Swiss put what appears to be tall, gray aliens on their 100 franc note? Officially they are sculptures by a Swiss artist, Alberto Giacometti, titled "The Walking Man", a popular set of sculptures depicting terrors of the 2nd World War. But naturally they have to have a cover story.
It's certainly a most strange picture:
However, we believe that in reality these depict the tall, gray aliens that Phil Schneider saw at a meeting of the New World Order in an underground base. He saw roughly 160 world leaders seated in an auditorium. But down the front there were 12 empty reserved seats. He was wondering who they were reserved for. What he saw next made his blood run cold. Twelve tall Grey aliens entered and sat in the empty seats. After that, Phil knew that he could no longer stay silent.
ALIENS ARE NOT SO ALIEN
Much of what we think we know about aliens has come from Hollywood. However, two stories indicate to us that aliens are not as alien as they would like to have us believe. Some of their habits and preferences are similar to normal humans.
ALIENS USE CARPET & WOODEN DESKS LIKE JUDGES DO
We have known Christian Pastor Bill Schnoebelen personally since around 2002, and we have total trust in the truth of his stories. That is why we did a nine hour interview of him.
Bill told us a story about what happened to him as a young man in the 1970s. At that time he was a high ranking Freemason, a Witch, a Catholic Priest and a Satanic Priest. This was a real event, not a dream.
He was out at night time in his car. Suddenly he was transported to a room. He was then  standing up, facing a big, wooden desk. Behind it were sitting four aliens.
The desk looked like the kind of thing you might see at the Supreme Court; a long, dark wood desk, with very ornate carvings. It was long enough so all four aliens could sit with plenty of room to spare. (I am guessing that maybe it looked something like this – only with very ornate carvings.)
Nothing was on the desk or about it – but like in the Supreme Court, the desk's FRONT rose higher than the apparent surface of the desk, so Bill could not really see the desk's surface.
Remember that, as I said above, we are under Admiralty Law in a Military Dictatorship, under National Emergency. The legal looking desk gives more clues of how this fits in with aliens.
The room had matching wood paneling.  The floor was covered in carpet which was plain, rich looking burgundy.
As to the aliens, one was a tall gray.
One was some kind of weird, squid-faced thing that was totally inhuman.
The third looked like a Nordic type alien – human looking with blond hair.
One of the aliens in the center was all in black, tall and masked. He looked vaguely like Darth Vader, oddly enough. Not really exactly. This happened before Star Wars came out.
The aliens questioned Bill about Masonic secrets.  They seemed unhappy with his progress in Freemasonry. They then encouraged him to do more with Masonry, but they were not very nice about it. (Remember that all judges are Freemasons).
Then Bill was back in his car. Unlike normal abductions, this time Bill had full memory of what happened, so presumably this time they wanted him to remember. Since he was a member of the Masonic Lodge, they assumed that this event would be kept secret, which it was until he became a Born Again Christian and went public with his knowledge of Secret Societies.
Please note the presence at that table of a Nordic alien. That is important. This is evidence that the Nordics are just as bad as the other aliens on earth. I will discuss Nordics more later in this article.
Note: "Nordic" as used in this article means "Nordic alien" and is not to be confused with human Nordics, with whom they share some common resemblance, but are very different. We believe that most of the youtube videos showing famous people with slit pupils are actually showing Nordics, not reptilians, as the slit eyes seems to be the only thing that changes.
You might think that the fact that the aliens use carpet, wooden desks and wooden paneling is not so important. In fact, it shows that the whole image they have portrayed of them being supra-normal is a lie. They have more resemblance to conmen, with some fancy technology to make people look up to them.
ALIENS ACT LIKE LAWYERS
The other story is harder to verify, but we find no reason to not believe it; One day we met a woman at a beach in Florida, whom we met with on a number of subsequent occasions. She had a friend whose father was present at Roswell, during the alien crash landing, that was later covered up with a pathetic story of a 'weather balloon'.
In the course of conversation she mentioned something which we believe she did not know the full significance of its meaning;
The father saw that when the alien turned up to meet with the American Military, he HAD A BRIEFCASE, CHAINED TO HIS ARM. That is, he was acting as a regular lawyer!
Earth is run by corporations. Each government is secretly a corporation. Once again, we have evidence that we are under Admiralty Law in a Military Dictatorship, under National Emergency.
We postulate from the above story, that the universe also is run by laws and corporations as well. Hints of this have been given to us in the movie "Jupiter Ascending" and the excellent book "Battlefield Earth" by Ron Hubbard, whereby earth was sold into slavery by a banker to pay off some debts.
The legal aspect is important. We have here two pieces of evidence that show that aliens work in a similar fashion to the ways lawyers work. The aliens want to trick you into going on the ships. They don't want to force you. This is because, if you go on willingly, they have some legal right to do to you as they wish. Do not fall for their scam. Do not go on the alien ships.
YOU HAVE BEEN PROGRAMMED TO LIKE & TRUST ALIENS
The aliens have been with us for hundreds of years, in hiding. The aliens understand humans well, and especially know about marketing and propaganda. Marketing is all about associating good FEELINGS with a product or idea. This is called 'anchoring'.
What better way to get a person to like aliens than have them see fun TV shows as a child? It has been shown that a person's brainwaves are in a hypnotic trance within just one minute of watching television. How many people have been hypnotized to expect Mr. Scott of Star Trek to "beam me up Scotty" when in danger?
You learned from The Mars Records that it is simple for the aliens or military to open a portal into anyone's bedroom, abduct them and then give them some scopolamine and hypnosis. The person will then do whatever they are told.
The excellent book Secret, Don't Tell; The Encyclopedia of Hypntosism shows with records from court proceedings that anyone can be made to do anything with hypnosis and drugs, including rob a bank, prostitution and murder. Influencing a scriptwriter or an author is child's play.
E.T. THE MOVIE
The Satanists in Hollywood have done much to help the aliens prepare for this harvest, at least since the release of "E.T." in 1982. If you analyze this movie, you will see that while at first it appeared cute, in reality it had some very evil messages.
First of all, you have an alien who is similar in appearance to the grays, the same ones who regularly take people without their permission and operate on them. How would people feel if humans took them at night, without their permission, and operated on them, and removed body parts, without even paying them for it?  This is evil beyond imagination.
E.T. also taught children to hide the truth from their parents, and that parents are not to be trusted. The whole movie was filmed from low down, from a child's point of view – making adults look like tall, scary people, instead of the only people in the world who really care about that child.
ALIEN PROPAGANDA ON TV
Alien propaganda will have the best marketing, and will be in the most popular shows, such as:
TELETUBBIES  
DORA THE EXPLORER
Maybe I'm stretching a point there – but note the giant eyes, almost non-existent nose and monkey friend who is about the right size for a gray alien.
MY LITTLE PONY
These almond shaped creatures do not look like anything like ponies. But they make some very colorful aliens.
BARNY THE REPTILIAN
ALIEN TOYS
The same characters that are on TV fill the Toy Department, such as My Little Pony:
Here are a few other ones that don't make sense, unless you realize that aliens want to teach people from childhood to love them:
ALIENS IN SCIENCE MUSEUMS
When I was growing up, animals were my passion, so I was aware of everything animal around us. Naturally, as a warm blooded mammal, my main interest was in mammals, but also in birds, with some interest in reptiles. It would make sense that most children are like this.
Therefore, I was shocked when around 2006 we started visiting a lot of Science Museums. In the children's section, museum after museum would have out 80% reptiles, and only 20% mammals and birds, or less, when it should be the other way around.
Dinosaurs were everywhere.They seldom ever even mention the dozens of different species of extinct mammals, many of which were larger than today's mammals. Most of these went extinct suddenly 12,000 years ago. (Ref: Not by Fire, but by Ice)
Many people do not know that besides the woolly mammoth, there were at least 19 other species of prehistoric elephant, and many other species of giant rhinoceros, giant bears, giant camels, giant cats, giant sloths, giant kangaroos, giant wombats and many other strange mammals quite different from today's mammals. Yet hardly a word of these at the museums. Do they perhaps not want us to realize that human giants existed then also, and right up until quite recent times?
Even when they had a live animal display, it was all snakes, turtles and lizards. Where were the guinea pigs, mice, rabbits, chickens and other warmblooded animals that are cheap to look after and show to children? It was this wild skewing towards all things reptilian that made us begin to see an orchestrated attempt around the world to get children to love reptilians and aliens.